Podcast Chapters
Frequently Asked Questions
Thanks for your interest in Podcast Chapters. If your question isn't answered in this FAQ, feel free to reach out to me on Twitter and I'll be sure to help you out.
What podcast clients can I view MP3 chapter markers in?
Most third-party podcast clients can view MP3 chapter markers. You can get an idea of the podcast clients that support MP3 chapter markers using this spreadsheet (you'll want column W). Please note it's not entirely up-to-date, with MP3 chapter markers quickly gaining adoption across the spectrum of podcast clients.
The big podcast client that cannot is Podcasts for iOS (and iTunes for macOS), and this is a known issue. There is a radar filed at #24883412, and we hope Apple will fix Podcasts for iOS and iTunes for macOS to support MP3 chapter markers soon.
Update: iOS 12 now supports MP3 chapter markers on iOS. When it's released (expected in September 2018), the most used podcast client in the world will support MP3 chapter markers!
What ID3 version does Podcast Chapters use?
Podcast Chapters uses ID3 v2.3 throughout, even if the file that's imported uses a different ID3 tag (or doesn't have one at all).
Can I add other podcast metadata in Podcast Chapters?
As of Podcast Chapters 1.2, you can now set the following non-chapter metadata in your podcasts:
Podcast title
Podcast authors
Podcast artwork
Episode title
Episode summary
Does Podcast Chapters support individual chapter artwork?
As of Podcast Chapters 1.2, you can now add individual chapter artwork. In compatible podcast clients, this will show up as the show art during the time period of the chapter..
Can I import markers from [some format]?
Podcast Chapters 1.2 supports importing chapter markers from cue files. You can import markers using the menu, by selecting 'Import Chapters...' from the 'Chapter' menu, and selecting a cue file.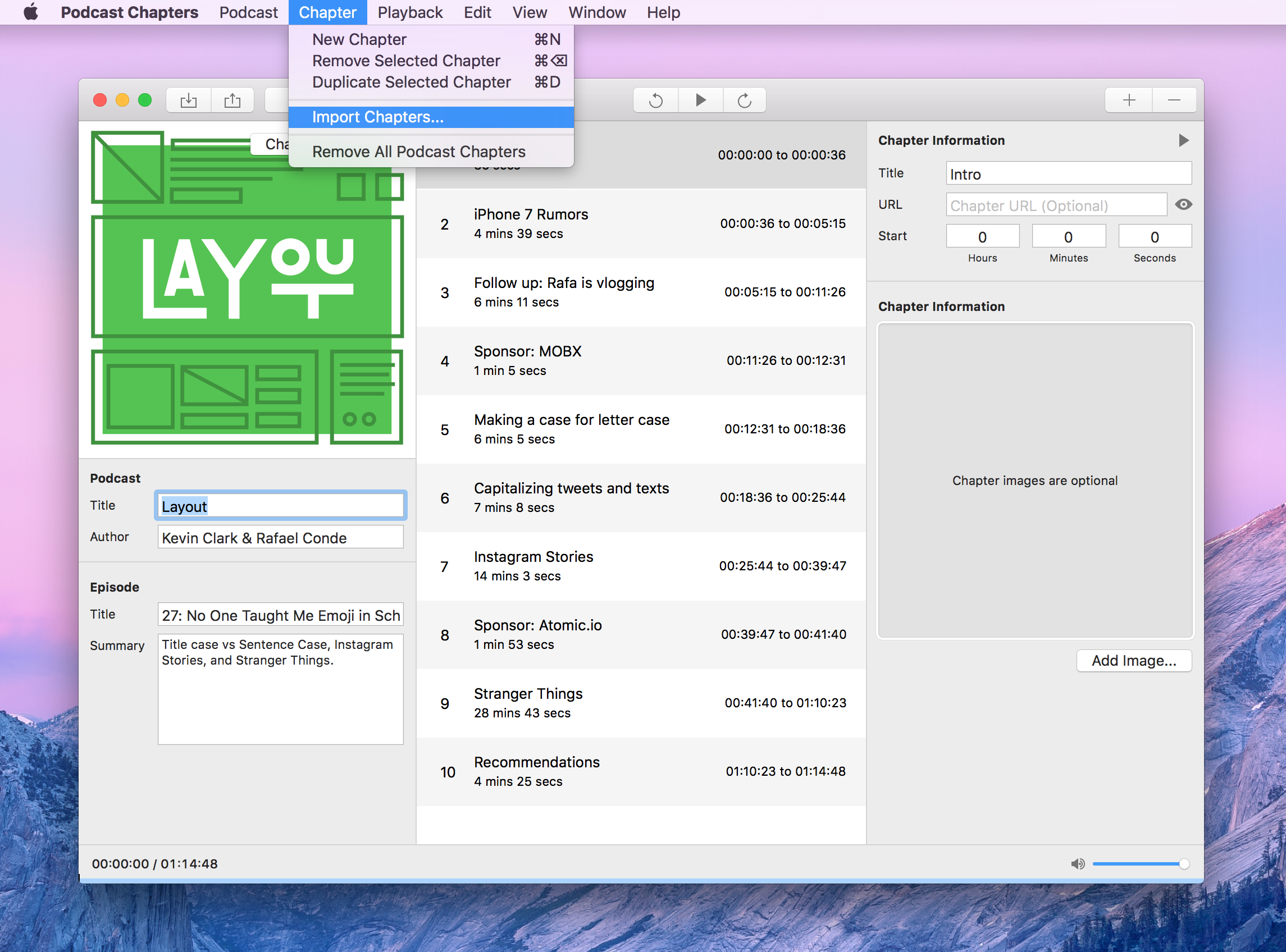 The cue files only support importing the title and the timestamp of a chapter, and if you want to add a URL or an image to the chapter, you will need to do that manually in Podcast Chapters.
Support for csv files is on the way, and if you'd like another format supported, feel free to reach out to me.
I have another question that's not answered here.
First of all, that's not a question, it's a statement.
The best place to ask a question is on Twitter (@tpritc), or if you'd rather, you can send me an email.